'MORE LIFE' Review: Drake Delivers MORE Emotion, Rawness & Complexity
The results are in: good things come to those who wait. After months of toying around with the idea of a release date, Drake finally followed through on March 18th, and dropped More Life. More Life is Drizzy's newest project since the release of his award-winning album, VIEWS (2016), which went platinum four times. More Life features vocals from Giggs, Black Coffee, Jorja Smith, Sampha, Quavo, Travis Scott, 2 Chainz, Young Thug, PARTYNEXTDOOR, and Kanye West. From start to finish on this project, Drake's playlist can be subdivided into three categories.
More Life features production from Noah "40" Shebib, London On Da Track, Kanye West, Murda, and Nineteen85. Drake's experimentation with different, invigorating, and head-bopping beats are commendable. He isn't afraid to take a risk on this LP. The intro track, "Free Smoke," sets the tone for the playlist. From it's hard core beat, straight to Drake asserting his power in the rap game, and shutting down Meek Mill once again, gave MORE reasons as to why this project is going to be one for the books. He questions on the intro, "How you let the kid fighting ghost-writing rumors turn you to a ghost?" which is the savage in Drake we love.
Drake has been putting in work. It's safe to say that it's taken a toll on his emotions. He introduces his emotional side on tracks like "Jorja Interlude," where he says, "Told me I'm looking exhausted, you hit it on right on the nose." One of the best things about this track is the throwback reference to his "Doing It Wrong" beat, off his Grammy winning album, Take Care.
Drizzy introduces his complex side when sampling afrocentric beats. He's trying to show he's one for the culture, whether that's him experimenting with different accents or beats. These beats are heard on tracks such as "Get It Together", "Madiba Riddim" and "Blem." Although the beats have a lot going on, Drake finds a way to spit heart-hitting lyrics. He questions love, relationships, and his status as he continues to rise to fame, while on an enjoyable party beat. "I'm blem forreal, I might just say how I feel," and he proceeds to say how he feels with a sample from Lionel Richie's hit song, "All Night Long."
More Life. More time with family and friends. More Life. I've still got vibrations to send. More Life. They say that we could live forever. At night I pray it's true. I've done so much in my short time and still there's more to do. But if someone should come collecting. Sooner than we're all expecting. At least the life you lived was one for you. – Drake
The rawness in Drake is introduced on tracks like "KMT" and "Gyalchester", as he confidently states his hierarchy in the industry. Drake raps, "I know I said top five, but I'm top two" which proves him not wanting to become complacent. He continues to be blunt in his lyrics when teaming up with Quavo and Travis Scott, for "Portland," one of the most anticipated tracks. The trio's ability to bring fire out of one track is what makes this work of art require no explanation, summary, or introduction. This is the perfect example of a standalone track Drizzy could've released as a single, which is what he was aiming for when creating this playlist.
"I love the way it's put together by the way, it's really put together like a seamless listen. Its almost like a radio show, basically I asked myself man what would happen if I did OVO Sound radio but every song was a new Drake song?" – Drake
If I had to narrow down my five favorite tracks? I would go with "Portland," "Teenage Fever," "Lose You," "Do Not Disturb," and "Glow," all for great reasons of course. "If you had my love and I gave you all my trust would you comfort me?" The 1999 hit song by Jennifer Lopez is perfectly sampled on "Teenage Fever." Drake taps into the same emotion he did for "Marvin's Room" as the song reveals his humbleness, hunger, and honesty for love. The reference to a "Teenage Fever" displays how one feels when they are really falling for someone.
It's always rare when Mr.West hops on a track for a feature. However, Kanye made sure to bless the So Far Gone artist with at least one. "Glow" is one of the more uplifting tracks on this project. Kanye's flow is similar to the #OldKanye's flow, which ultimately makes this track a favorite. Ye professes on the song, "They gon' bang this here all summerti-i-ime" and he might be right. The "Stronger" rapper tweeted back in August'16, "GLOW," which makes sense now. When Kanye and Drake produce relatable tracks about making nothings into somethings (all pun intended), it is always memorable. Ye explains he broke up with being broke, and his attack on wordplay proves that Drake can bring out the best in the best. Not to mention, Drake's melodic vocals as he screams, "Watch out for me, I'm about to glow." To put the icing on the cake, the track ends with the perfect sample from, Earth, Wind & Fire's, "Devotion."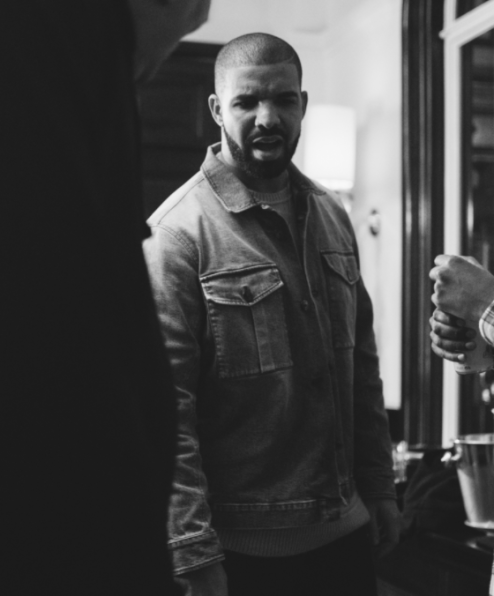 Drake leaves everything on the table on the ending track, "Do Not Disturb." He gives some substance as to how his life has been in the past year. His bluntness in the song is similar to his ending track on What A Time To Be Alive Mixtape, "30 For 30 Freestyle." He has some hard-hitting lyrics and ends his outro by saying, "My life is set around competition and currency. Takin' summer off, 'cause they tell me I need recovery. Maybe getting' back to my regular life will humble me. I'll be back in 2018 to give you the summary. More Life"
The only problem with the playlist is that it's quite lengthy. Songs could've been chopped off the cutting board due to the fact it's easy to lose sight of Drake's overall message. The project is an hour and twenty-two minutes, and since "Fake Love" is an example of a track we've previously heard; it shouldn't have made the final cut. This goes back to why Drizzy might've labeled this project a playlist rather than an album. He got a chance to have no pressure; have an endless amount of songs, have a variety of beats, without officially calling it an album. This might stem from all the backlash he got for Views. Fans claimed that Views had too many pop songs for a "rap album." Needless to say, Views was nominated for many Grammys, despite the naysayers.
I love the rap world, I love the rap community, but .. I write pop songs for a reason, I wanna be like Michael Jackson, I wanna be like artists that I looked up to.  — Drake
So on a scale of one to ten, the playlist gets a solid 8.5. Drake wanted to create a playlist rather than an album. The 22 tracks on this LP could've been 22 different singles on the radio. This work proves that mixtape Drake, the "So Far Gone Drake" has evolved. He shows complexity, growth, and the effects of being human. Trying to narrow Drake into a rap or R&B category is proven to be ineffective because he makes timeless music. Well done, Drake, well done. "More life for your head-top, so watch how you speak on my name." We hear you Drake and we're watching.
"It's just more an evolution of the mixtape, it was kinda getting tough to be like "Hey I'm dropping a mixtape, but it's for sale on iTunes", it's just kinda like "Oh so that's you're album." I really didn't want to people to say "that's your next album." VIEWS was my album, this is something after Views, I was just inspired, I wanted to keep the music flowing, I wanna keep people excited." — Aubrey Graham